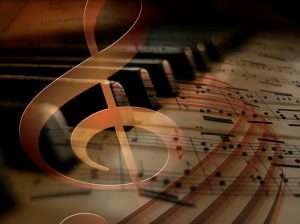 Choosing music for weddings can often be a difficult task, however if done well it could be one of the most defining features of your special day. Not only does music entertain your wedding party, it will also play a large part in enhancing the mood or atmosphere at your wedding as well as helping to create a feeling of harmony and unity as your day progresses.
"Music is a moral law. It gives soul to the universe, wings to the mind, flight to the imagination, and charm and gaiety to life and to everything." Plato
As someone who has been performing for wedding ceremonies, drinks receptions and wedding breakfasts for over twenty years I have come to realise some of the difficulties that many couples have when it comes to thinking about choosing music for their wedding. With this in mind I hope that the following short sections of information will be helpful to you when going about this process, whilst at the same time showing you some of the available music options that I am personally able to provide throughout your special day.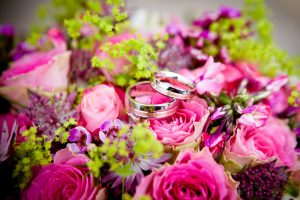 Choosing music for your Ceremony
The Ceremony is without doubt the most important part of your wedding and one that will be greatly enhanced with carefully chosen music. During your Ceremony it is customary to have music played at various stages of the service:
The arrival of guests (typically 20-30 minutes of music) 

The entrance or "Procession"of the bride (usually 1 piece of music)

The signing of the register (often 2-3 pieces of music)

During hymns (church services)

The exit or "Recession" of the bride and groom (1 piece of music) 
The so-called "Entrance" and "Exit" are certainly the most important parts of the Ceremony (in terms of the music at least) and it is always these that will need the most thinking about. Certain venues may like to influence your decisions in regard to your ceremony music…it is your special day however and so I would encourage you to think carefully about the type of atmosphere you are wanting to create. This will help in your choices of music. I have lots of suggestions for this part of the day, however as I have mentioned it is the most important part of your day musically, and so rather than providing you with a barrel of musical suggestions, I would advise a more in-depth discussion by means of a private consultation. During your consultation we could discuss all of your musical ideas in detail and you could also hear me perform any songs you would like to hear played on the piano (see later information on booking a free consultation).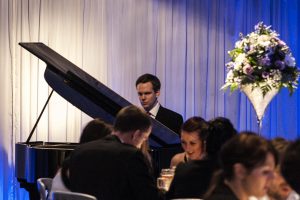 Choosing music for your Drinks Reception
The Wedding or "Drinks" Reception is the period of time between your Ceremony and Wedding Breakfast and it is often over-looked as an important part of the day during which your wedding party might be entertained with music. More often than not, you (the Bride and Groom) are whisked away by the photographer during the Reception leaving the majority of your guests a little "stuck for bobbins". Drinks Receptions tend to last between 1 and 2 hours during which I normally play through about 20-30 songs. Often more lively and somewhat less formal than ceremonies, it may be appropriate to choose music that will compliment such an atmosphere. Keep in mind a good mixture of styles will cater for the whole wedding party at this point of the day. Some good examples that work well are:
Beyond The Sea (Bobby Darin)

A Wink And A Smile (from "Sleepless in Seattle")

Everything (Michael Bublé)

All You Need Is Love (The Beatles)

Million Love Songs (Take That)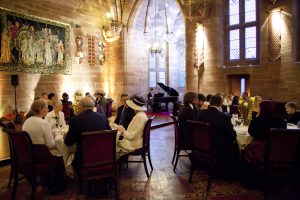 Choosing music for your Wedding Breakfast
Before your Wedding Breakfast begins it is often quite fun to have a "special piece" of music played as you are announced in to the room. Convention can be thrown out of the window at this point as this piece of music could be absolutely anything…Film music, T.V themes…anything. The main theme of "Pirates of the Caribbean" must be one of my favourites to date!
As all of your guests are together in the same room at this stage of the day it may be a nice gesture to have them request some of their favourite songs. This can really help to "bring everyone together" as it were. The Wedding Breakfast is also the most opportune moment for you to have your favourite and more specific choices of music performed.
During the meal itself, the music should not be too over-powering, that it might blend with a more refined ambience. As all of my pianos are digital, they have the facility to be linked to smaller speakers that can be placed around a room, allowing the music to be heard and enjoyed by everyone at an appropriate level. Some of the more favoured requests in recent years during Wedding Breakfasts have been:
All Of Me (John Legend)

Make You Feel My Love (Dylan/Adele)

Can You Feel The Love Tonight? (Elton John)

I Won't Give Up (Jason Mraz)

A Thousand Years (Christina Peri)
Looking for ideas? Choose music from my repertoire list 
Although I have given a few suggestions for each of the three parts of the day already discussed, please feel free to browse through my full repertoire list for ideas in choosing music for your wedding ceremony, wedding reception and wedding breakfast. A PDF version of my full repertoire is also available upon request. Any specific pieces of music that you have in mind that are not on the list can also be requested and heard during your free consultation.
A free consultation – helping you choose your wedding music
Music is perhaps the only feature of a wedding that is not always made readily available to experience before-hand in the same tangible way that say a photographer's work is; or the flowers, the food or indeed the venue itself are. It is because of this that I like to offer 'free consultations' during which you can hear how your choices of wedding music will sound before your wedding day. As a service it has proven to be invaluable to all of my previous wedding couples. Hearing music in a live situation is after all, a more realistic representation of a performer than solely via a website recording or an online video.
Book your free consultation – choose when and how to suit your requirements
It is important that you are completely satisfied with the music and service that you would like to have on your special day. The free consultation is a great chance for you to hear how your choices of music will sound before your wedding as well as an opportunity to discuss any musical ideas and requests you may have in detail. There would be no obligation to go ahead with a booking after your consultation if you were not entirely happy with both the music and service provided. Your consultation can be done in person, or via Face Time and Skype, whichever suits you best. Feel free to call, email or message me to book your free consultation today!